It's the 6th of December, Saint Nicholas' 'birthday'. Here in the Netherlands, he is mostly known as Sinterklaas. He comes from Turkey originally and lives in Spain with his helpers – the Zwarte Pieten (the Black Petes). To make sure everybody is aware of his presence, he comes two weeks in advance to the Netherlands and visits various cities in the country, so all children and adults get to see him!
Below you can read on brief about the Sinterklaas Dutch tradition and how students at the HU decided to tweak it in order to give it a more international atmosphere.
The Dutch tradition
As a tradition, families here play a game similar to "Secret Santa". Through this game, they prepare one present for the person they will act as Secret Santa. It only gets interesting from here, as the present they give take a lot of time to prepare. Generally, they do not invest a lot of money on it, but additional to the present itself they create a poem. This poem is about the person the present will be given to. It's a good way to publicly 'roast' this person, no strings attached – however, they need to make sure it rhymes.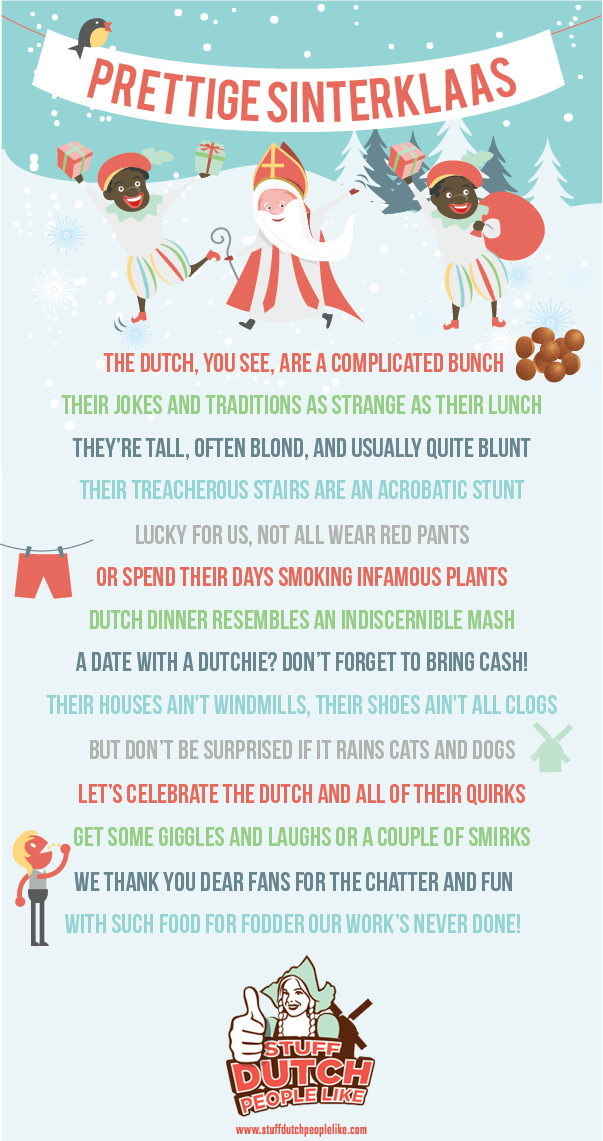 If they feel like writing is not their strength, they can decide to take to the next level their present wrapping instead. The wrap itself should resemble an object that the gift receiver likes. Let's say they like chocolate and they love their dishes to be washed well. In this case, Dutchies might hide a clue in the dishwasher that will lead the receiver to the present hidden in the house, that happens to be wrapped as a chocolate bar. In can be as elaborate as one wants. Usually, it's quite competitive though. Finally, in some houses, Sinterklaas comes at night and brings a few little presents putting them in a shoe.
As an international here in the Netherlands, it's quite a nice way of spending time with the people you care about and getting to know them better. I would definitely suggest to give it a try with your new friends, once you move to the Netherlands. It can be very fun!
Giving it an international perspective
Last evening, Sinterklaas brought delightful presents to children and adults. Here at the university, we reinterpreted the gift-giving tradition. The Honours programme* organized a concert that was meant for raising money for children with disabilities in Bangladesh.
Getting in the holiday spirit and feeling the magic floating all around us, people joined this event for the good music, networking, or simply to donate. Amazed by how easy it is to do a good deed, people from the public volunteered to sing in order to raise even more money. The amount raised was sent the same evening to Bangladesh, so we would make sure they enjoy a little more the holidays.
See below a sneak peek of the event. Stay tuned to our Instagram as we will post there more videos from the event.
*Honours programme – A programme specially created for the people that are ambitious and would like to go that extra step. By completing various projects, you won't only be seen as a professional, but you will also graduate with honours.**
**Graduating with honours – It's a distinctive diploma that will make you stand out from the crowd. It shows the hiring manager you are ambitious and proactive. Think of it as cum laude, but instead of having high grades, you have many projects and skills you've worked on along the years.