2nd-year student at Creative Business
Block A, or the first semester of this academic year, has passed. It is for sure a year like no other, there were many changes because of the pandemic, so our students needed to keep up and be flexible. Besides the hybrid track (both online and on-campus), students had the possibility to choose a full online track. Therefore, now many of the students are spread all over the world, just as I am, following online classes from my home country, Romania. In this article, we will go through how I and other Creative Business students experienced the first block of this year, but in a fully online setting. Enjoy the read!
Let's start with my experience. I waited nervously for the first semester to start, of course after a long summer holiday, getting back on track is at least slow in the beginning. This year didn't come up with the stress of searching for a room in Utrecht, but for sure it had other uncertainties. Will I be able to focus and stay motivated while studying from home? How will the group work be like, will I make any friends, giving the fact we will have a new class? How long will we follow online classes? And the list could go on…What I can say now, is that it's important to take it as a journey, of course, it was challenging at times, with lots of stress, but I also learned to be more flexible, adapt to different situations, and learned new skills.
I believe it's important to have goals and keep yourself busy in this uncertainty that's all over, and university helped me with that. Nevertheless, even if I enjoy the online classes and the comfort of my own home, I do miss the people, the social aspect of the university, in the end, the human interaction that happens more at the HU than through a screen. The group work was the thing that kept us closer and more in contact with each other, so I can say it really helped with chatting outside the school and making friends.
When it comes to the lecturers, I do appreciate them and the fact that they are motivated in the same way online as on campus to teach us, to pass to us the knowledge, and to guide us. They are there for a talk, questions, or some remarks after class just as before. The quality of the education, I can't say it really changed much. Of course, it may be different, but after this block, I still feel like I learned and experienced, even if I really missed what HU and the building provide us.
So, I can say studying online is more comfortable and I may have more time to go deeper and study, but I can easily lose motivation because the atmosphere is not exactly the same as being physically at the HU. It is important to know how to find a balance. 
In a wrap, that was how I experienced studying online, with good and bad parts, it was a journey that still has to continue. So in the coming lines, we'll see how other CB'ers did. A big thank you to them.
Zoe Killing, 2nd-year student, from Germany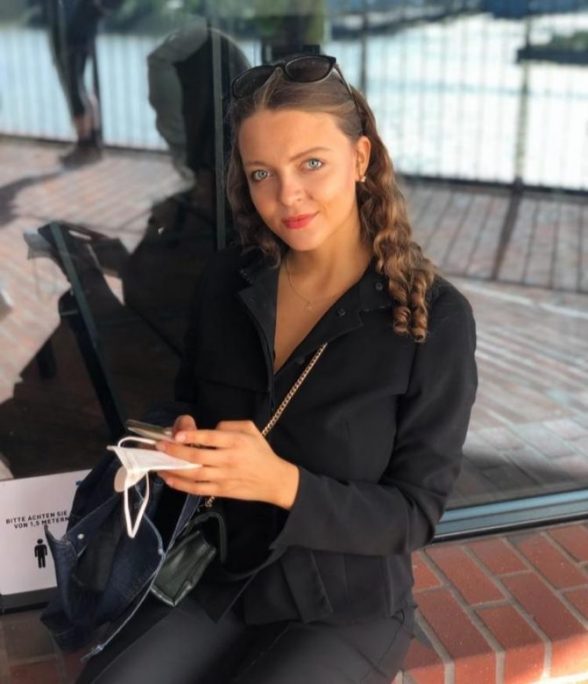 Overall, I view online university as an experience with many new learnings. The whole process of switching from a real-life to online surrounding did include some challenges, but also really made me enrich my skills of becoming more proactive. Although of course, I am missing the campus a lot, I did really enjoy the routine I got to engage in from home. Therefore I am a huge advocate of online education.
My "home office" is the comfiest place and I really love to work in. I know that the lecturers also really had to adapt to the new situation of teaching online. Taking into account that responsiveness and engagement can be lower in students when addressing them online, I think that they did a great job in adapting.
I do find online education very qualitative in regard to efficiency and also have noticed myself engaging more actively in class, mainly because of the chat function. I think personal interaction is of huge value in regard to fruitful group work. On the other hand, doing group work online, enabled more meetings, and also really pushed us in actively making use of group chats and the Teams channel. Following the track remotely of course sadly does not give room for the potential "after meeting beer" and making new friends is a little bit more difficult. On the other hand, I still feel like a connection with my group members, probably due to the fact that we all had to deal with this new situation together and we so often spoke on teams. I'd look forward to meeting them in real life, once the situation allows it again.
So to conclude, I think one positive side of studying online is the fact that we all had to deal with this new situation and learned so much along the way. But on the other hand, we had to engage in way more screen time, so that's why I really recommend going on "active lunch break walks" outside to catch some sun and air in between. 
Lia McNamara, 2nd-year student, from Switzerland 
For me having online university requires to have much more discipline as I was used beforehand with physical lessons. You need to be more proactive while preparing for the classes, but also when attending all the classes because you need to focus your attention entirely there, it's only you and your computer. And of course, we have more online meetings happening, for example when doing class activities or working on assignments. Then, there are different time zones that need to be taken into consideration when we schedule meetings and also the fact that everyone has a different life and routine with the current situation going on. Sometimes it can be challenging, but we need to find a solution that works for all members of the team. But even so, I actually enjoyed Block A, I started to find balance and a rhythm for myself, I am doing sports which I think keeps me energized and less stressed.
We had many group projects, so we were always talking and keeping in contact with each other, which in the end really helped me to feel less lonely during the pandemic, it gave me a sense of community. And truly the group work went really well, I had nice groups and I can't wait to meet my classmates in person.
If I were to choose between online or on-campus, I would probably go for on campus. I do miss it a lot because now you don't see the teachers and your friends anymore, so I really miss the social aspect and the fact that I can get more things done in less time. On the other hand, now I got used to online education, so I don't mind it anymore because I have my own rhythm now and people with whom I enjoy working.
The shift from offline to online education came with all kinds of difficulties and uncertainty, but now I feel it more settled. The teachers are always there for us, trying to form an online community. Sometimes the classes feel long, but we have access to the materials used, so we can always go back and revise. I think there is a change regarding the quality of the education, not necessarily on what we learn, but on the facilities of HU has, such as the library or working spaces that I really miss going to.
So online school can be challenging, lonely at times, but luckily people are there for you, we can relate to each other and be there when we need a talk because, in the end, that is what this period is about. I am anyway happy that I can be more independent in my studies, and take charge of my learning journey, even if sometimes I feel lost between the slides, and an answer can take a bit longer than in a normal class.
Miriam, 2nd-year student, from Italy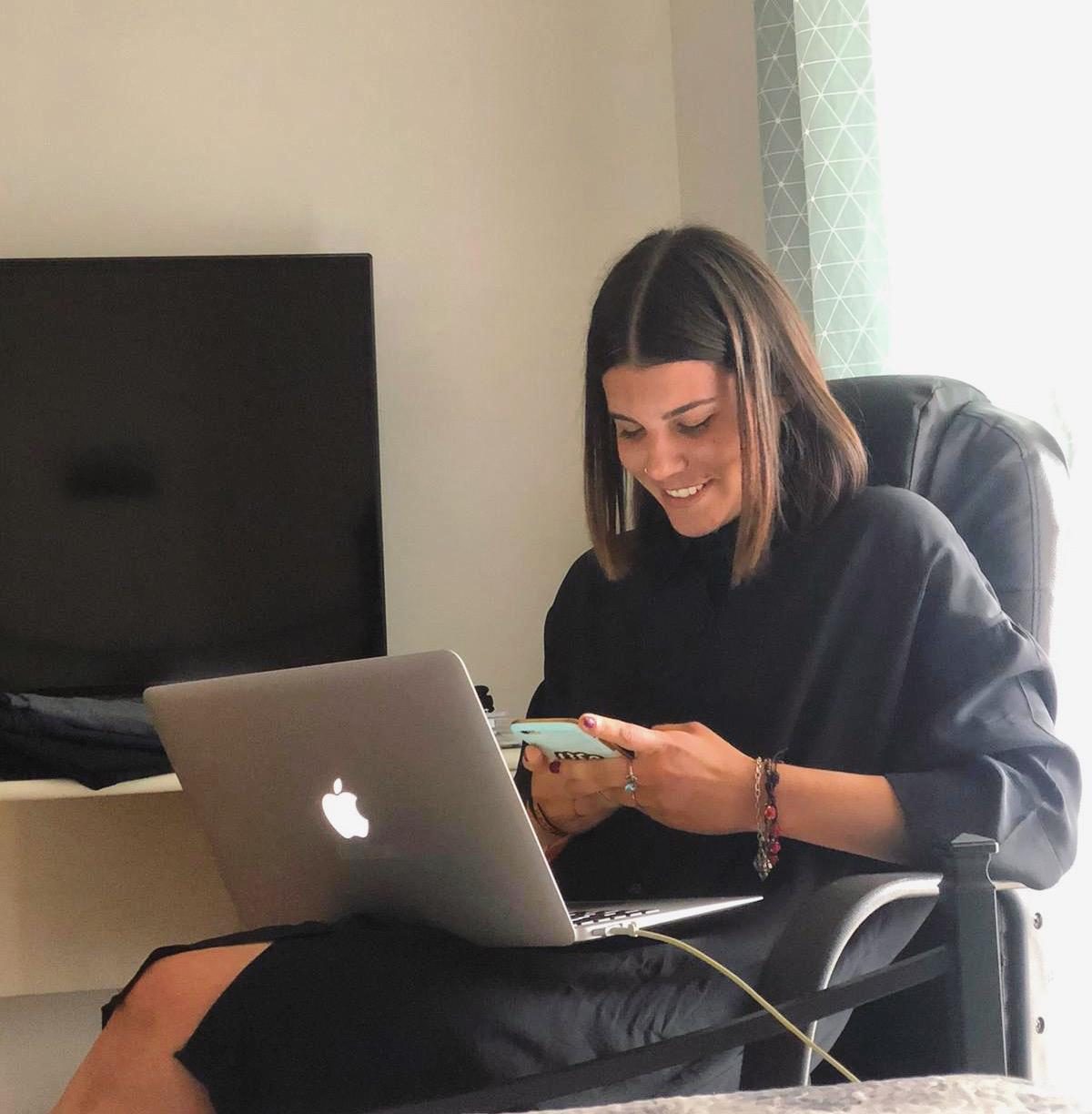 My experience with online university in block A was in big lines good. Of course, because it was the first block it was challenging to adapt and have a study routine again, but I think the people and lecturers behind the Creative Business program did a great job in organizing everything and making this shift fully online for us.
I do enjoy more on-campus education, I think everyone does. The social aspect is very important for me, and for sure I can have a better study routine because there I feel the atmosphere of people studying, working, and the enthusiasm. I miss riding my bike to school and meeting friends, keeping in contact with them.
When it comes to the quality of education, theory content, assignments and grading are the same. But the lack is sometimes interactivity, waiting longer to receive an answer or to just say my opinion, while in class I only had to raise my hand. I think this situation applies to everyone, and I do really appreciate our lecturers for trying to get us engaged in the class.
Group work online was a challenge I really enjoyed, thanks to the teams I had. It helped me to feel less lonely, talking to them and working was also a distraction from the current situation with the pandemic. Even if it's online, I feel like I was able to create friendships, it's not the same as in real life, but I am looking forward to meeting the girls I worked with once I'll be back in The Netherlands.
So to conclude, I feel like there are more negative aspects for me when it comes to studying online. It's harder for me when it comes to studying motivation, I miss the social aspect, and of course, the uncertainty around doesn't make it any better. On the other hand, the fact that I didn't have to search for a room again (which is stressful), I didn't have to ride my bike during a storm and the fact that I am in my home country with my dear ones while also studying, are things that somehow compensate.
Charlotte, 2nd-year student, from The Netherlands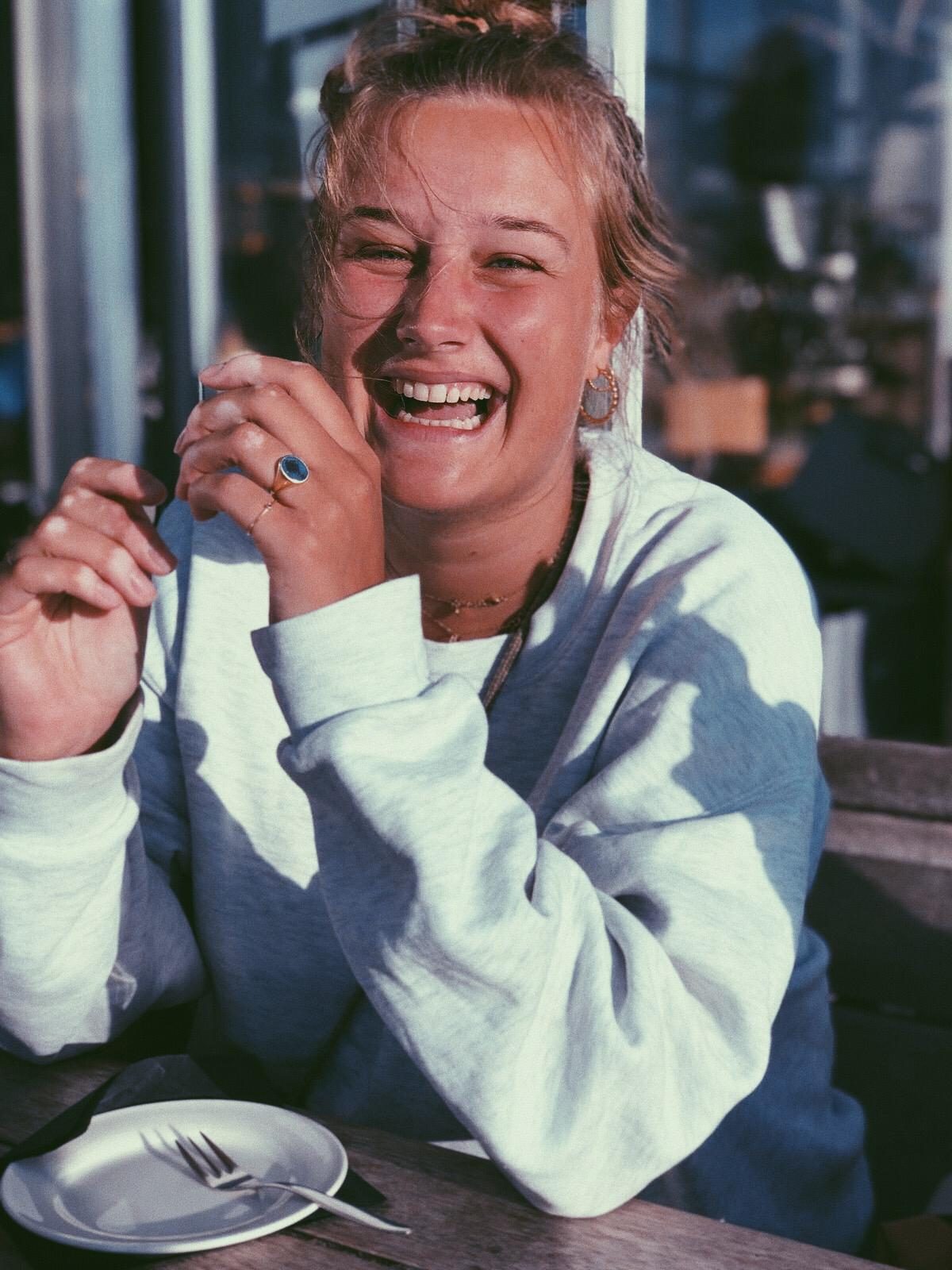 Between year 1 and 2 of Creative Business, I took a gap year, so I wasn't actually following any online classes when the pandemic started and everything had to be moved online. So, I can say I really had the first experience starting this September, and other than having some issues, in the beginning, it went smoothly.
I think the lecturers took care of creating high-quality content and slides for us and made time to answer our questions and doubts that we had. Honestly, I must say that I don't like online classes that much, but it's not as bad as I thought. With education on campus, there is more interaction, immediate feedback, the quality is better that way. On the other hand, working online is more efficient and group meetings are a lot easier to schedule. So, I think I like both ways of studying, maybe a combination, such as hybrid education would fit me best.
So as I said, group meetings are easier to schedule, but then talking to each other, brainstorming about ideas, and motivating all members it's more challenging. I feel like even in this online setting, I made new friends, but unfortunately, it's not possible to see them now because of the pandemic. And I think it's nice that everyone goes through the same, so we can relate to each other and feel connected. It brings us closer, but I'd love to meet my classmates in real life.
In the end, studying online has its negative aspects, group work not always going smoothly. But I want to highlight it's more time-efficient, besides studying Creative Business, I am also working, doing an internship, and it's only a matter of seconds or minutes to join a work meeting directly after finishing an online class.
We hope you enjoyed reading our students'  thoughts after this first online block. And we want to thank them for sharing them with us. Let us know in the comments how you are experiencing education online!